Understanding the Child by Dr. Bjarte Sanne (here pictured with the Chin Hills in the background). Understanding the child is written for workers in Children's Homes in Myanmar, and it teaches on child development, from infancy to adolescence, and on child rearing.
Most parents love their children and try their best to prepare them for adulthood. However, many times parents do not know how to show their love and affection in a way that makes the child feel loved. And if a child doesn't feel his parents' love, he easily reacts negatively towards their disciplinary actions.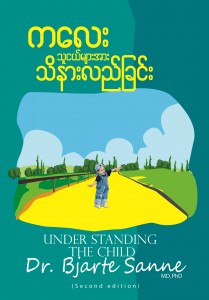 Issues such as how to show love, how to stimulate children and help them develop, how to discipline them and correct their negative behavior are included, as well as information on common mental problems in childhood. The book is being used as a text book for the seminar "Understanding the Child," and has showed to be a practical help for parents to improve their child rearing skills. Dr. Bjarte Sanne, a Norwegian child and adolescent psychiatrist, presents relevant findings from research and also draws on his own and other child psychiatrists' clinical experience. Biblical perspectives on child rearing are also included. Understanding the Child is mainly written for parent substitutes in children's homes in Myanmar, but is relevant for families anywhere.
The book is available in English PDF here.